For Healthcare Professionals
Our board certified toxicologists (5 medical toxicologists and 1 clinical toxicologist) are available 24/7/365 to consult with physicians and other healthcare providers.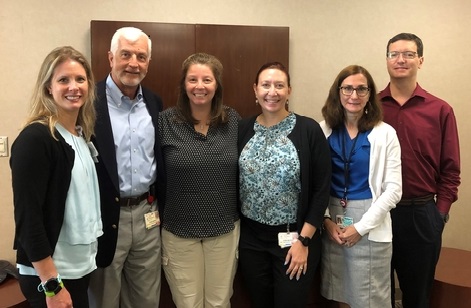 Pictured left to right are Drs. Ann-Jeanette Geib, Russ Kerns, Kathy Kopec, Christine Murphy, Anna Dulaney, and Michael Beuhler.
Services provided include:
Atrium Health's Medical Toxicology Clinic:
Patients may also be referred by physicians to the Medical Toxicology Clinic held Tuesdays from 8:00-10:30 a.m. at Atrium Health's Carolinas Medical Center in Charlotte, NC. Once a referral is received, cases will be reviewed by the Medical Toxicology team prior to scheduling an appointment.
Inquiries about our clinic or referrals can be made by contacting Ms. Tammy Moore at 704-355-0506.