Celebrating Nurses Week 2023--May 6-12
"You can pretty much call poison control for anything you can think of."
We are continuing our Nurses Week celebration and want you to meet Lisa, another one of our nurses who answers the phones and chats here at NC Poison Control.
Lisa is from North Shirley, Long Island, NY and has been a nurse for 27 years where she's primarily done adult critical care nursing and ER nursing. Lisa has worked at NC Poison Control since October of 2021.
Lisa says being a nurse is a calling like no other: "As a nurse, you have the ability to make a difference in someone's life every day, whether it's something as simple as giving reassurance to a scared patient or something big like literally saving someone's life."
At NC Poison Control, Lisa has helped patients and providers in big and small ways to respond to poison exposures. Lisa credits her teammates and training as a Specialist in Poison Information (SPI) in preparing her for the specialized, intricate nature of the job. "We have a great team working at NCPC! We all work really well together and try to help each other out. This is the most challenging job I've ever had as a nurse. There is so much to know, and we are always learning something new."
Learning new things is part of the culture at NC Poison Control. Lisa says, "It can be hard working in a job that has so many gray areas—in toxicology nothing is black and white. Each situation you encounter is different. This can be very challenging, and we are constantly leaning on our critical thinking skills to make the best decisions for patients."
Lisa has just studied for and taken the Certified Specialist in Poison Information (CSPI) exam. Staff at poison control centers are eligible to take the exam after they have worked a certain number of hours and handled a certain number of cases. Lisa says, "It was a big accomplishment to be able to take the exam. It really was the hardest exam I've ever taken with months of preparation and studying."
Preparation for the job is tough, in part due to the breadth of substances that can be poisonous. "You can pretty much call poison control for anything you can think of. We not only get calls from the general public for possible poisonings but from hospitals throughout all of NC for guidance about drug overdoses and toxic exposures."
Lisa goes on to say, "We manage everything from household chemical exposures, toxic gases, venomous snake bites, other bites and stings, questions about plants, mushrooms, food poisoning, foreign body ingestions, taking the wrong medication or wrong dose of medication, questions about drug interactions and the list goes on."

Lisa's hobbies and interests are reading, gardening, taking vacations with her family, and anything Harry Potter. Lisa has been married for almost 26 years and has an almost 20-year-old son, Alex. She has two dogs (Samson and Charlotte), parrot (Charlie), and a bearded dragon (Rex). Unsurprisingly, if Lisa wasn't a nurse, she'd want to be a veterinarian or running a farm for rescue animals.
We appreciate you, Lisa, and your fellow nurses at NC Poison Control.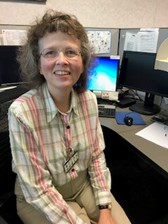 The theme for Nurses Week this year is "You Make a Difference." NC Poison Control is proud to celebrate our incredible nurses who make a difference—who stand ready to assist people facing suspected poisonings (We love our pharmacists, too, but this week is all about the nurses). Our clinicians are available, anytime day or night, to advise the general public as well as other healthcare providers across North Carolina.
While we know how great our nurses are, we want you to get to know them, too.
This is Bernice, one of our longest-standing nurses. Bernice has been a nurse for 41 years, 22 of which she has spent at NC Poison Control.
Prior to NC Poison Control, Bernice nursed in an Intensive Care Unit (ICU) setting. Bernice has a Master's of Science in Nursing (MSN) and is from Morganton, North Carolina.
Bernice wants people to know that at NC Poison Control, we help all kinds of people in all kinds of situations: "Advice is given on the simple and complex situations involving medications, chemicals, and environmental risk both in and outside of the ER," said Bernice.
Bernice appreciates all the learning opportunities NC Poison Control provides and is challenged by the constant change that accompanies a dynamic center and field of medicine.
When asked about how nurses make a difference, Bernice said, "Nurses have more personal contact with the patients served than those in other medical roles. That results in being able to know patients beyond the medical reason that puts us together. The trust built is the first step in making a difference."
Bernice goes on to say, "Nurses become the encouragers, the advocates, the teachers, and the hand holders for people in some of their most stressful times. Making a difference for a patient is always mutually rewarding and is the reward of being a nurse."
In Bernice's spare time, she likes to bake, sew, craft, and spend time with family. If Bernice wasn't a nurse, she said she'd like to be a Kindergarten teacher (Bernice, you would've made a top-notch Kindergarten teacher, but we're so glad you're one of our nurses!).
We recognize you, Bernice, and we give our most heartfelt thanks to all the nurses of NC Poison Control—for their dedication, care, knowledge, and compassion.
Happy Nurses Week!



When Seconds Count: National Poison Prevention Week is March 19-25.
In honor of National Poison Prevention Week, March 19-25, 2023, here are 5 ways you can celebrate:
Hand Sanitizer Cases on the Rise
North Carolina Poison Control is seeing an increase in cases about hand sanitizers. In fact, from 2019 to 2020 the volume of cases has nearly doubled from 327 (January 1-August 1, 2019) to 642 (January 1-August 1, 2020).
Here are some of the reasons people are contacting North Carolina Poison Control about hand sanitizers:
when a child gets a taste or lick of sanitizer accidentally.

when someone is concerned about sanitizer containing methanol.

when someone has developed irritation or burning after using sanitizer.

when someone gets a splash of sanitizer in the eye or rubs the eyes with hands still wet with sanitizer.
You can help prevent hand sanitizer poisoning by storing sanitizer up and out of young children's reach, using sanitizer according to the instructions on the label, and letting hands dry completely before rubbing the eyes.
When purchasing sanitizer, look for sanitizers that contain between 60-95% alcohol (ethyl or isopropyl alcohol). One to two pumps per application should be sufficient for hand hygiene. Supervise children when they are using hand sanitizer.
Some sanitizers made in Mexico have been discovered to contain methanol. Methanol is not a safe ingredient to be used in hand sanitizer. If you are concerned that a sanitizer you've purchased may have methanol, view an updated list of the FDA's recalled hand sanitizers here. If you're using a sanitizer on the FDA list of recalled sanitizers, throw it out.
Never drink hand sanitizer. Hand sanitizers should only be used to clean hands.
View the CDC's fact sheet on hand sanitizers and hand washing here.
If you suspect someone might be poisoned by hand sanitizer, contact North Carolina Poison Control at 1-800-222-1222 or chat with us by visiting www.NCPoisonControl.org.
Longer Periods of Indoor Time? NC Poison Control Encourages Awareness of Poison Hazards at Home

Many people are experiencing more time indoors due to quarantining and stay-at-home orders. This may also mean an interruption in normal family routines. Unfortunately, poisoning exposures often occur when routines are disrupted.
Everyday household items can turn into poisons if they're used by the wrong person, in the wrong amount, or in the wrong way.
Common products that children can get into include:
Personal care products (like mouthwash, lotions, and sanitizer)

Cleaning products

Over-the-counter or prescription medications

Home improvement and artistic materials

Foreign objects (like silica gel packets, glow sticks, and coins)
NC Poison Control recommends that people consider the everyday items they use. Keep household products and cleaners up and away and out of children's sight. NC Poison Control has created this room-by-room Home Safety Checklist to review potentially poisonous items in the home. Click here to download or order the Home Safety Checklist.
To prevent accidental poisoning:
Store personal care products, medicines, and cleaners up and away and out of sight.

Keep purses, handbags, or backpacks that contain medicines or personal care products up and away from children.

Teach young children not to touch or taste a product without a trusted adult's permission. Colorful and pleasant-smelling products can be appealing to children.

Remember that children like to imitate adult behavior.

When giving children medicine, double check morning and evening medications to prevent double dosing.
We know that accidents happen. If you suspect a poisoning, call NC Poison Control anytime at 1-800-222-1222 to speak with a nurse or pharmacist for immediate help.
Order an e-cigarette brochure from North Carolina Poison Control
North Carolina Poison Control has a new brochure available to help you navigate some of the information, or misinformation, you may be hearing about e-cigarettes.
The brochure equips you with facts about e-cigarettes and provides tips about how to approach the subject of vaping with the teens in your life. You'll also find out what to do in the event an e-cigarette poisoning is suspected.
Parents with young children, this brochure is for you, too. Children are at risk for e-cigarette poisoning if they come in contact with e-cigarette products.
Anyone in North Carolina can order a free e-cigarette brochure as a part of our teen pack. Click here to order a teen pack.
You can also click here to download or print the brochure.