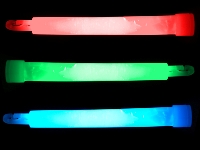 Glow sticks, necklaces, and bracelets are very popular items on holidays, like Halloween and Independence Day, and are also popular at concerts and birthday parties. Children of all ages can bite into them or get the liquid in their eyes. The substance inside these glowing items is usually dibutyl phthalate - a clear, oily, colorless liquid. It is low in toxicity but can cause irritation to any part of the body that it comes in contact with, including the eyes, skin and mouth.
For Ingestion:
Don't be alarmed if lips and tongue glow for a few minutes.
Wipe the mouth with a clean wet washcloth; go over the tongue and around the gum line.
Give the child up to one-half cup (4 ounces) of water.
For Eye Exposure:
Irrigate exposed eye(s) with a generous amount of room temperature water for at least 10 minutes.
Call NC Poison Control for ongoing irritation, swelling, pain or sensitivity to light.
For Skin Exposure:
Remove any clothing that is wet with the liquid.

Wash exposed areas of skin well with soap and water.
Call NC Poison Control at 1-800-222-1222 or chat from this site for further treatment advice.