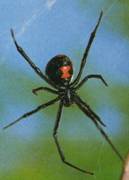 A black widow spider is recognized by a red-orange hourglass-shaped marking on the underside of its belly. Its bite may be painful or may not be noticed.
After a bite, symptoms that may develop are:
severe muscle pain and cramping
high blood pressure
weakness
difficulty breathing
headache
nausea
vomiting
Symptoms usually begin within the first three hours.
Call NC Poison Control at 1-800-222-1222 or chat from this site with questions or for more information about a spider bite.