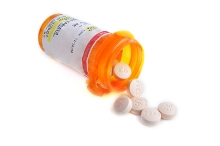 Pain relievers are medications that reduce pain and/or inflammation. Over-the-counter (OTC) formulations treat minor aches and pains and are typically intended for short-term use. Stronger pain medications can be prescribed to help manage severe pain.
The strongest prescription pain relievers are opioids—medicines originally derived from opium that work to block the feeling of pain. Opioids can be highly addictive.
Neither OTC or prescription pain relievers should be taken long term without a doctor's guidance. Remember that sharing prescription pain pills can be dangerous to others. Individual medical history and current medical conditions help determine whether a drug should be prescribed.
OTC pain medications:
Prescription pain medications:
Generic

Brand Name

Generic
Brand Name


Acetaminophen




Tylenol®




Hydrocodone with acetaminophen




Lortab®




Lorcet®




Norco®




Vicodin®




Ibuprofen




Motrin®




Advil®




Oxycodone with acetaminophen




Percocet®




Roxicet®




Naproxen Sodium




Aleve®




Tramadol




Ultram®




Salicylate



Bayer®
Excedrin®


BC® Powder




Tapentadol




Nucynta®




Morphine




Avinza®




Kadian®




MS Contin®




Hydromorphone




Dilaudid®



What can happen when pain relievers are taken inappropriately?
Taking more of a pain medication can have significant adverse reactions and even life-threatening consequences, including:
OTC medications
stomach ulcers
increased bleeding
liver injury or liver failure
Prescription pain relievers:
confusion
disorientation
excessive sedation
liver injury or liver failure
addiction
death
Taking too many prescription pain medications at one time or taking them with other sedatives like alcohol or sleep aids can cause a person to stop breathing.
How can misuse of pain relievers be prevented?
If you're taking pain relievers, these steps can help prevent a medication poisoning:
Always follow the dosing directions prescribed by your doctor.
Don't share your medication with others. Some drug interactions can be life threatening.
Avoid taking multiple products that all contain acetaminophen.
Make sure all medications (prescription and over-the-counter) are out of the reach of all of the children living in or visiting your home.
Be very cautious to avoid accidently taking extra doses when you have already taken a dose.
Call NC Poison Control, your doctor, or your pharmacy if you have questions about your pain medication and possible drug interactions with other medications. You don't have to wait for a problem to arise before calling NC Poison Control. You can call with questions, too.
What should you do if you or someone you know has taken a pain medication incorrectly?
If the person is not breathing or unresponsive, call 911 immediately. Otherwise, you can call NC Poison Control at 1-800-222-1222 or chat from this site for medication assistance from our specially trained nurses and pharmacists 24 hours a day.
If you or someone you know is struggling with substance abuse, click here to find a treatment facility.