Als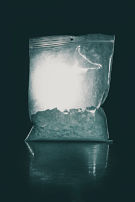 o known as:
Ivory Wave
Ocean Burst
Ivory Snow
Purple Wave
Blow
Snow Leopard
Bath salts are marketed in such a way to evade detection by law enforcement, but they should not be confused with products such as Epsom salts or other products that are added to bath water.
Though the name may sound harmless, bath salts may contain potentially dangerous substances.
Active ingredients may include:
Methylenedioxypyrovalerone (MDPV)
Fluoromethcathinone
Methylenedioxymethcathinone (methylone)
Methoxymethcathinone
OR other illegal compounds
Symptoms that may occur after smoking, snorting, or injecting these products may include:
high blood pressure
fast heartbeat
high fever
anxiety
extreme agitation
muscle cramps
delusions
hallucinations
paranoia
combativeness
dangerous and self-injuring behavior
Some users have developed kidney failure, cardiac dysrhythmias or irregular heartbeat.
Using Bath Salts can be life threatening.
Call NC Poison Control at 1-800-222-1222 or chat from this site for more information.