The makers of children's over-the-counter cough and cold medicines have changed the recommended age for dosing.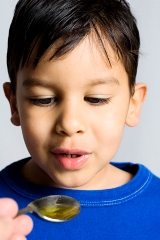 Labels now read, "DO NOT USE in CHILDREN UNDER 4 YEARS of Age". Members of the Consumer Healthcare Product Association (CHPA) have volunteered to change their labels, hoping to prevent the misuse of these products.
Tips for Parents and Caregivers:
Do not give a child cough and cold medicines that are made for adults.
Talk to your health professional before giving a child any cough or cold medicines.
Read the label carefully. Never give two or more medicines that contain the same ingredient.
Follow the directions on the label. If there are no directions for your child's age and weight, call your health professional and ask for dosing instructions.
Use the measuring device that comes with the medicine.
Choose medication bottles that have child-resistant safety caps.
Store the medicine out of reach of children.
Understand that cough and cold medicines treat symptoms, but do not cure a cough or a cold. Courtesy: www.fda.gov
Call NC Poison Control at 1-800-222-1222 or chat from this site for information.