When you're out supporting your favorite team, rem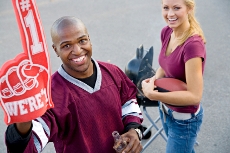 ember these potential hazards that can wreak havoc on your fun:
Sterno
Many portable warming trays are heated with sterno fuel, which can contain ethanol and methanol. Both can be toxic to children, even in small amounts, if swallowed.
Alcoholic Beverages
Make sure all alcoholic beverages are kept out of children's reach. It does not take much alcohol to intoxicate a small child, who could become excessively drowsy, more prone to fall, and have a decreased respiratory rate.
Unsafe Grilling
Grills and hibachis should be used in a well-ventilated area. Never use a grill in a garage or the back of a camper or camper shell. Carbon monoxide can be released from any fire; lack of adequate ventilation can increase the chances of carbon monoxide poisoning.
Insect Repellant
DEET containing products should not be used on children under 2 months. Use products with a concentration of 30% or less. Apply only to exposed skin areas and use only once a day. Do not use products that are a combination of DEET and sunscreen. Avoid putting DEET on the hands to prevent accidental ingestion. DEET containing repellants should be washed off the skin as soon as you return home.
Food Poisoning
If meat is not cooked thoroughly or foods aren't kept at the proper temperatures, you are at risk for food poisoning. Keep hot foods hot and cold foods cold.
Call NC Poison Control at 1-800-222-1222 or chat from this site if you have questions about an exposure or for more information.